Helping the Hobby
By Curt Cragg
Several months ago I found myself getting wrapped up in debates about "repops verses originals" or the value of un-restored pumps, or "Is "profit" a dirty word" here on Oldgas. My objective was often to interject humor (and sometimes sarcasm) into the subjects for the sake of a laugh and to try to get people to lighten up a bit. Sometimes this was met with appreciation and sometimes people were offended.
Now before you get worked up because you think that I'm picking on you, realize that there is a moral to this story relative to my own experience and this is not directed at anyone in particular. I'm just relating my experience for the benefit of all of us.
At the prompting or perhaps chiding of another Oldgas member I realized that what I was really doing was "stirring the pot" and in some cases fomenting the debate which wasn't really helping anything or anyone. It certainly wasn't doing anything to promote or support my passion for collecting roadside relics.
Coincidentally, it was about this time that I was visiting Mark Mendenhall and he showed me a picture of Highway 101 running through the town of Buellton in the 1940's. I was intrigued by the "who's who" of service stations which promoted me to go looking for more pictures.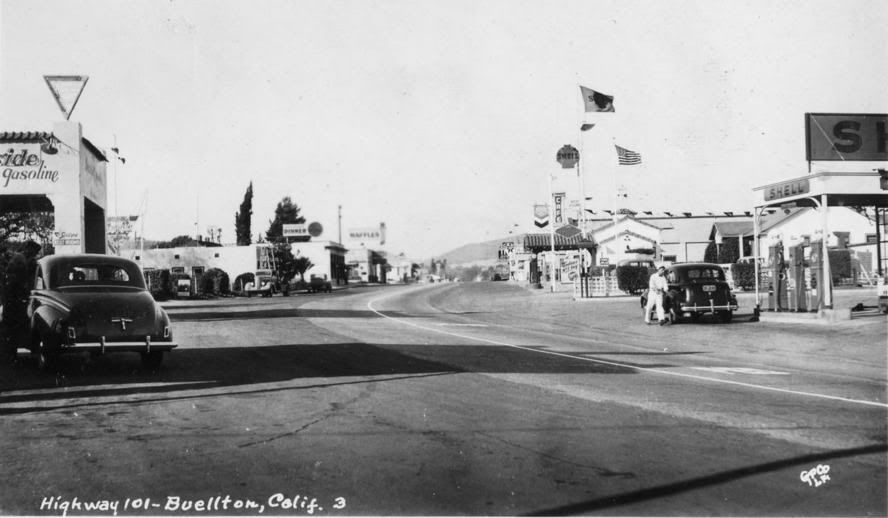 At the time I had no idea how far this search would lead and what kind of results it would bring about. One of the places that I started my search was the Buellton Historical Society, which is basically a small room that houses a small collection accumulated mostly by one person over the last 13 years. Fortunately she has done a good job and there were many interesting photographs available to add to my collection.
As it turned out this was only the beginning or what I now call "A Petroholics Journey of Discovery". Those that have followed Oldgas know that I eventually wrote some stories and posted pictures of these old stations on this site. At the prompting of some of the Oldgas readers I submitted the stories to the local newspaper. The paper published the stories and now I write a bi-weekly column about local history, which often includes service stations.
But that was really just the beginning.
And before I lose you, the point I'm trying to make is that several months ago I made a decision based on the input of people I respected and my own perception of how I was contributing to this site, to do something constructive and really "Help the Hobby" in my own way.
The outcome of that change in attitude has far exceeded my expectations.
My collection of local service station images soon grew to include local diners, motor courts and motels since some of these had service stations as well. I soon had more images in my collection than any of the local historical societies, including pictures that had not been seen locally before, as they were from archived or private collections.